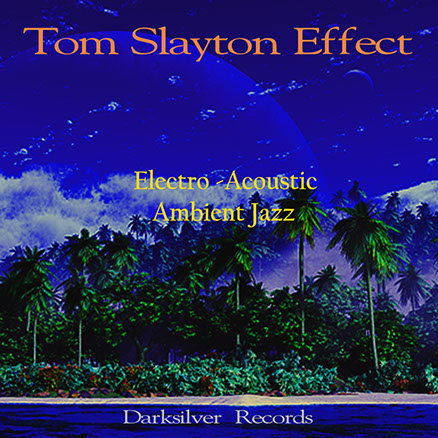 '''''Tom Slayton Effect' blends the imaginative textures of New Age / Soundscape music with the organic feel of Acoustic & Electric Guitars. An unusual electronic instrumental convergence that features a mellow, yet adventurous musical experience with some cuts even featuring an expressive Smooth Jazz feel. Deep Synth and Keyboard arrangements are inter-laced with 6 & 12 String Acoustic and Electric Guitars, Fretless or Synth Bass Bottom, Dobros and Harps. Sometimes the Rhythm section implements a Full Drum Kit and at other times the delicate, but pronounced use of percussion reinforces the eclectic presentation. When in use, the Acoustic and Electric stringed instruments are allowed to evolve and maintain an individual presence throughout the complex and vivid Keyboard pads and coloration. While some compositions are dominant with Keyboard structure, there is also focus on the acoustical flavoring. At times soft and Haunting New Age and at other times upbeat Jazzscapes, 'Tom Slayton Effect' brings together wonderfully, two different worlds of tonal composition. And although done before in similar ways by other artists, this musical style features an Acoustical – Electronic, Instrumental palette, unique in form and design. Enjoy the simple magic of an "Electro-Acoustic Ambient Jazz " adventure.
'Tom Slayton Effect' is the Third major side project of Jazz artist Michael Lee Thomas. He is the composer / performer behind Michael Lee Thomas, 'Thrill Element' and 'Gravity Quiet'. 'Tom Slayton Effect' features Electronic / Acoustic compositions with focus on Acoustic and Electric Guitar work over expanding Keyboard & Synth textures. While instrumental in nature, this project will feature dynamic and expressive arrangements. The project will showcase a side of Michael's songwriting that while flavored and influenced by his instrumental works, will feature a unique presence and style of its own. The debut Album 'Slide Show Dreams', was released in August 2007, and the Second Album, ' 'One Ghost Cafe', released in 2008, the Third, 'Water Crossing No. 3' was released in December 2009, the Fourth Album, 'Intimate Mirage', released in September 2013, and the Fifth and Final* Album,' Last Warm Morning', was released in November 2014. All of the Albums feature 14 Select "Electro-Acoustic / Ambient Jazz" cuts. Inspiration for the 'Tom Slayton Effect' project name came from Michael's late Grandfather, A.M. Tom Thomas (1908-1973),who toured Rodeos, Fairs and even recorded under the name "Tom Slayton, The Texas Kid", in the late 1920's & early 1930's. While his Grandfathers music career never achieved significant fame or wide recognition, Michael launches this project in tribute and with respect to a long forgotten Radio Cowboy. All recordings will be released through Darksilver Records. 'Tom Slayton Effect 'Music and Albums are avalable at www.soundclick.com/tomslaytoneffect
*While All of the Albums and Songs will be available for purchase, the 'Tom Slayton Effect' Project was Retired in November 2014.
(c) 2018 Darksilver Records